Zoological Museum of UzhNU
Historical background of Uzhhorod National University Zoological Museum dates back to 1946 when it was founded by associate prof. Rohal' I. H., the head of Biological Department, and Nesterenko K. H., the first director of the Museum.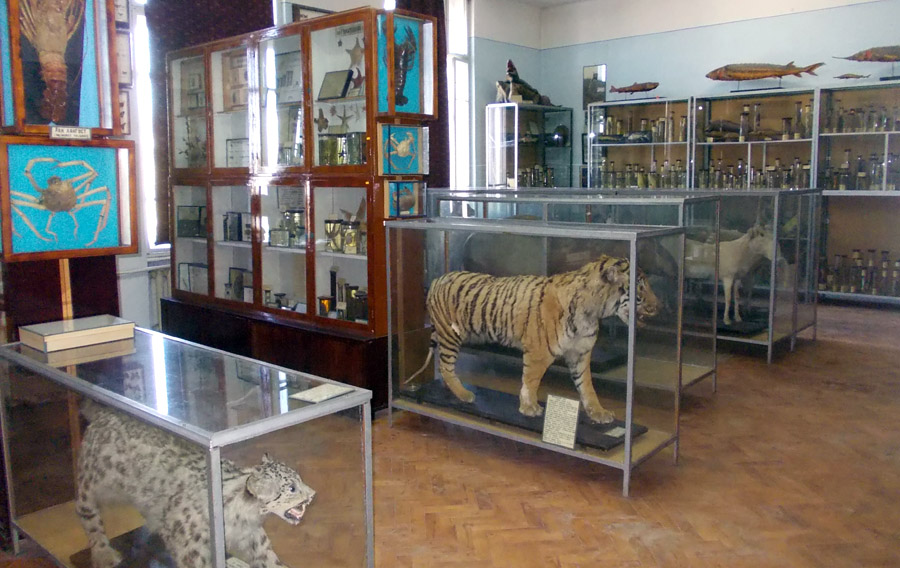 At first the exhibitory collections of animals, birds, fish and insects were created on the basis of exhibits of Uzhhorod, Mukachevo and Berehovo senior high schools as well as some presents from various research establishments of the country. These collections helped students of Biology master the bases of vertebrates and invertebrates taxonomy, their expansion (zoogeography) and so on. Leading specialists in the field of Biology, namely M. Y. Kucherenko, E. K. Vlasova, V. I. Ponomarchuk, M. J. Kelentey, L. J. Kyrychuk, Y. I. Mateleshko , I. V. Kushnir and others made a significant contribution to the development of the Museum. Its unique exposition and funds have been constantly replenished. The Museum staff as well as students and scientists of Biological Department enriched the collections owing to the expeditions to the Caucasus, the White Sea, Azerbaijan, the Volga basin, the Askaniya Nova. Moreover, there have been numerous exchanges with the zoological museums of Odesa, Tashkent, Tomsk, St. Petersburg, Moscow and Samarkand. As a result the exposition hall presently contains about 5,000 items. In addition, the scientific fund rooms hold the collections of more than 150,000 items of insects, fish, amphibians, reptiles, birds and mammals. Since its foundation the Museum has turned from a supplementary educational structure into an independent research centre of the region. The Museum is especially important for ecological and educational cultivation of the youth. It is open and all the interested have an ample opportunity to visit it. The exposition halls are annually visited by thousands of pupils from different towns and villages of the region as well as by students, scholars, tourists from both Transcarpthia and near and far abroad.
The Museum holds the fauna exponents from all the continents and oceans of the world. Among them are: duckbill, echidna, giant kangaroos, ostriches-emu (Australia), rhea (South America) and African ostrich, penguins (the Antarctic), zebra, kana antelope and wildebeest antelope, crowned crane, marabou, flamingos, dark albatross (India), cockatoos, sunbirds, tropical insects (Africa), armadillo, puma, rhea ostrich, toucan, alligator, rattlesnake (America), bullfrog (North America), flying frog (the Java Island), chameleon, turtles, flying dragon (the Malay Archipelago), Indian elephant and Bengal tiger, Tibetan monkeys, cobra (Southeast Asia), polar fox, seals, mutton-birds, starfish and hedgehogs, madreporarian corals and red coral, jellyfish and rays: star-shaped (the Barents Sea), electric and sandy (the Indian Ocean), sharks, chimera, sawfish, stuck fish, pinagora, seahorse, flying fish, piranhas and other animals from different seas and oceans. It also displays an impressive collection of Transcarpathian fauna. In particular, a special attention should be paid to the unique collection of birds of prey and owls (215 exhibits), which A. Hrabar, an Uzhhorod ornithologist and naturalist, gathered at the beginning of the XX century in Transcarpathia and Eastern Slovakia. It is fairly considered to be the best one in Central Europe. In his turn I. Loudon contributed a lot to the Museum by his unique collections of tropical beetles and hunting trophies (horns) of hoof animals. The entomological collection of Transcarpathian beetles by V. I. Ponomarchuk, the collection of hemipterous insects of Ukrainian region by H. M. Roshko and the collection of bark beetles of Ukrainian Carpathian region by A. A. Giricza are of great scientific importance for the Museum. Its assistant workers annually organize ornithological tent camps for schoolchildren in different regions of Transcarpathia, popularize ecological knowledge through mass media and conduct practical seminars on animal protection in state forest farms.
The Museum is also in contact with Schmalhausen Institute of Zoology, National Academy of Sciences (Kyiv) and the State Museum of Natural History of Ukraine (Lviv), Uzhansk National Park, Transcarpathian regional centre of children's environmental education, as well as with many scientists of Ukraine, Slovakia, Hungary, Germany, Russia and other countries.
The ZoologicalMuseum is one of the greatest Transcarpathian treasures. That is why everyone who cares about the future of local culture should support and contribute much to its further development.
THE ZOOLOGICAL MUSEUM STAFF:
Bokotey O. M., the head of the Museum, candidate of sciences in agriculture (abokotey@yandex.ru)
Luhovoy O. O.
Kron A. A.
Potish N. I.
Voynarovych Y. E.
EXCURSION SCHEDULE
Opening hours are from 9.00 to 14.30 on weekdays
Saturday and Sunday are days-off
Excursions should be ordered 3 days in advance
Contact phone (0312) 61- 66 -50
Welcome to our Museum! We are looking forward to cooperation!
S. Golik
28.10.2014