UzhNU took part in the exhibition "Higher education - 2019"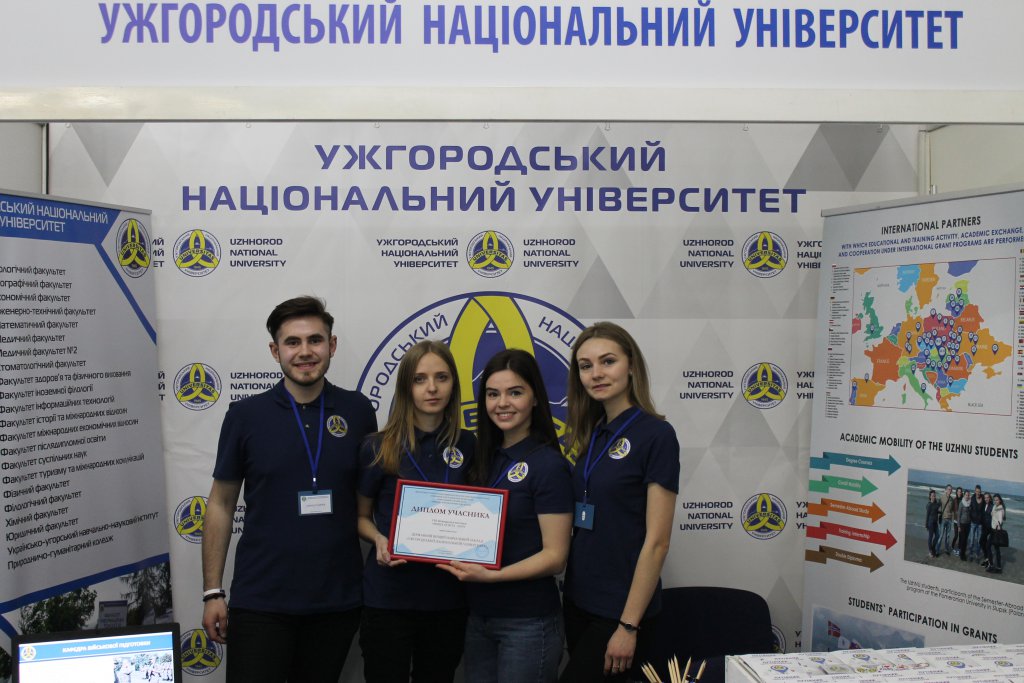 On March 21-22, 2019 Uzhhorod National University took part in VIII International exhibition "Higher Education - 2019" held in Lviv Palace of Arts. The goal of the exhibition was to familiarize students of the Lviv region with the opportunities provided by various higher educational institutions.
This year the exhibition was attended by 65 Ukrainian higher educational institutions (Kyiv, Lviv, Kherson, Odesa, Kharkiv, Zaporizhzhya) and foreign universities (Poland, Hungary, Czech Republic, Lithuania). The guests of the exhibition were secondary school pupils of Lviv educational institutions, teachers, parents and students.
The representatives of the Department of Humanitarian,and Educational,Work of UzhNU told the visitors about the faculties of UzhNU, the Ukrainian-Hungarian Educational and Scientific Institute, Natural Sciences and Humanities College. They informed about the specialisms and the rules of admission to UzhNU in 2019, international opportunities, sports achievements, achievements of IT students and peculiarities of student life. The guests of UzhNU exhibition stall became especially interested in the robot, designed by the students of the Faculty of Information Technologies which, with the help of infrared sensors, could see the obstacles in front of it and tried to avoid them.
There was also a presentation about UzhNU "International opportunities provided to students of Uzhhorod National University" which focused on international exchange programmes for students, internships abroad, semester studies and dual diploma programmes.